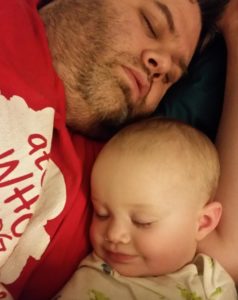 2017 rang in quietly at my home. We watched a DVD someone got for Christmas. Five minutes before midnight, we shifted to TV.
We opened a couple of bottles of Welch's Sparkling Grape Juice and poured it into cobalt blue goblets in preparation for the countdown. Then it was 3, 2, 1… And we all hugged and kissed as appropriate.
This was the baby's first New Year celebration, but she's always up for consuming food and drink. So she eagerly downed a tablespoon of white grape juice, her emerging teeth clinking on the glass.
A minute or so later, the juice came back up, with a bit more from other adventures in eating. Her father, duly decorated, went down to shower and clean both of them up. Then they fell asleep. And baby's mother snapped a photo of her sleeping loved ones.
In a prior age this moment would have been remembered only briefly, possibly forgotten the next morning. But now we have a photograph. And now there is IMGUR.
"At our New Year's Party, A girl drank too much, puked on my husband, and then fell asleep with him… Best night of my year!"
To the baby mother's initial delight, the post started getting traction. Then IMGUR told her it was officially viral (at 300 likes). Then she started getting Facebook comments from friends who asked, "Is that your husband and baby on the front page of IMGUR?!?!?!?"
Less than a day after going live, the post has over 10,000 likes. And the author is both delighted and a bit anxious, because her IMGUR persona is a bit more outré than even the persona her friends knew in college.
May your New Year be delightful. May you have those around you to love and cherish. May you find deep truths that fill your soul with joy and peace. And may you live a life that in reflection brings a smile to your face.