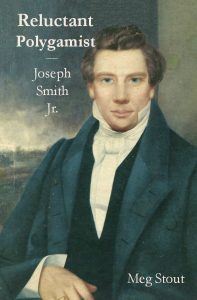 I had a delightful time at the Mormon History Association Conference this past weekend. I met scores of individuals, many of whom I had only read about. They were uniformly gracious in person, including those with whom I have sparred online.
But I realized the road to being accepted by some in this community is paved by scholarly papers.
As I evaluated why I have written this book, I realized I simply want this version of Joseph Smith to be available to a large number of people as soon as possible. So I am making the pdf version of the book available to anyone who wants to download it. Just click on the cover image in this post.
If you really want a physical copy of the book, it is being carried by Benchmark Books in Salt Lake City and you can get the book from Amazon. Even though I'm now giving away the pdf, I still think the nicest format is Kindle, making it trivially easy to access the footnotes. The version currently available via these sellers has the old cover and doesn't include the updates based on Ugo Perego's latest DNA analysis. The updated version represented by the pdf will be published on June 27th.
And there's more… hello audio book
I'm working on an audio book version of Reluctant Polygamist. I've currently identified my main reader (who will also read Joseph Smith's words), as well as readers for Joseph Smith Sr., Jane Manning, Eliza R. Snow, and William Clayton. If you would like to be a part of the audio book, e-mail me. Let me know who you'd like to read, why, what your past vocal experience is, and where you live. I strongly prefer working with those who are either near DC or in the Salt Lake/Provo area. Compensation will be commensurate with standard industry rates. I'll add a table of possible parts later today.
Se Habla Español? Parlez-vous français?
A beauty of making the pdf widely available is making it possible for those who don't speak English to grab the book and translate it into their own language. If you would like to do that and make it available to others, just let me know. I'll dust off the Reluctant Polygamist website and we'll post the translations over there.
Planned Scholarly Papers
So, even though I haven't submitted any scholarly papers yet, I have every intention of paving that paper-lined road to scholarly acceptance. First on the docket is an examination of the Joseph Ellis Johnson testimony, explaining why scholars should consider that the "Joseph" who frigged Mary Heron may have been Joseph Kelly.
Shout out to fans
I want to thank those who have enjoyed the book or the original Faithful Joseph series and reached out to thank me. You are amazing. I've loved talking to some of you in person and via e-mail. This past week my husband told me of two individuals who approached him who had read the book and hoped to meet me.
So even though I'm mostly surrounded by people who don't care, you who have liked what I've been saying and writing are a source of sweetness. Please know how much you are appreciated.