The #MormonMafia has people in the highest (and lowest) levels of government.
I was once a member of the dreaded #MormonMafia.
When I lived in Arizona, my assignment was to volunteer with the Chandler Police Department, where I did terrible things like:
Assisting stranded motorists

Retrieving keys from locked cars

Assisting officers at motor vehicle accidents

Assisting Chandler Fire with traffic control at fire scenes

Any other task that didn't require a sworn officer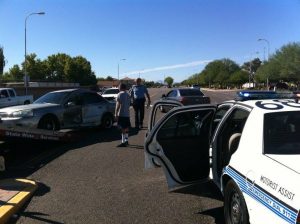 As a uniformed volunteer with the Chandler Police Department, I did some unspeakably bad things, like the time I changed a woman's tire and told her to "Have a nice day." I mean, seriously, who does stuff like that anymore?!?! What was a thinking?!?!
I still have nightmares about that day.
Worst thing of all? The Church of Jesus Christ of Latter-Day Saints actually ENCOURAGES it's members to do this type of stuff.
Now, I'm not trying to deflect responsibility for my actions; I am guilty as charged. No, I'm just pointing out that the #MormonMafia might continue to grow—creep into other areas of everyday life.
The next time someone stops to help you when your car breaks down, or when someone holds the door for you, it could be a member of the #MormonMafia.
The group of women and men that put together toiletry kits for Syrian refugees? Yep, they could be a part of the #MormonMafia, too.
Be vigilant. Be careful. Be aware.
You never know when you might meet a member of the #MormonMafia. Who knows…they might just be there to help you, too!