Evan McMullin, the Mormon #neverTrump candidate supported by well-known neo-conservatives in Washington, is surging in Utah.  The chances of his winning Utah are quite high.
I am #neverMcMullin, and I wrote this post about why, but I will admit that McMullin taking Utah instead of Trump and Clinton would be mostly a good thing.  I can understand the arguments of my friends who are voting for McMullin at the very least to send a protest vote against the horrible Hillary and the terrible Trump.
Still, I want to point out that McMullin's signature issue — his policy in Syria — is fatally flawed and dangerous.  McMullin will not be the next president, but Hillary probably will.  When you look at the big picture, McMullin's Syrian policy is basically HIllary's Syrian policy.  They are both wrong, and they are risking a war with Russia over a country that is not central to U.S. interests.  I feel compelled to speak out in opposition.
Background
Syria has been ruled by the Assad family — first the father and then the son Bashar al-Assad — since the 1970s.  Make no mistake:  these are bad guys.  Like many of the world's worst tyrants, they reign with blood and horror in Syria.  But the Assads are a known quantity and are mostly secular leaders.  They have kept a lid on Muslim extremism in Syria and they have mostly tolerated the Christian minority in Syria that has been there since the 1st century AD.
Syria has been allied with the Soviet Union and now Russia since at least the 1960s.  In 1971, the Soviets opened a naval military base in Tartus on the Syrian coastline.  During the Cold War, many Americans saw the alliance with Israel as a counterweight to Soviet aggression.  But the Russians have made it clear lately that they consider Syria essential to their national security, especially because Russia lacks warm water ports for its navy.
The Syrian civil war started in 2011.  There have been literally hundreds of different rebel groups opposed to the Assad government, but there are several main coalitions active now.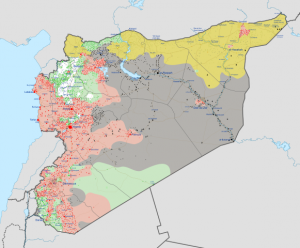 The above map shows the primary groups fighting in Syria.  The red is controlled by the Syrian government (backed by Russia).  The gray is controlled by ISIS.  The green is the main opposition group (backed by the U.S.), and it includes both supposedly secular and Islamic rebels.  The white is the former al Nusra organization, an al Qaeda offshoot opposed to Assad (backed by Arab countries and Turkey).  The yellow is primarily controlled by ethnic Kurds (backed by other Kurdish groups and the U.S.).
To sum up:  the United States is backing a lot of the opposition to Assad, and the Russians are backing Assad.  But at the same time, the Russians and the U.S. are supposedly allied in fighting ISIS and al Nusra.  But meanwhile, there are several other groups that are fighting against Assad and against other rebel groups.  It is a mess.
I want to mention that Syria's Christian minority has created several militias to protect their towns and cities from ISIS and other Islamic groups.  Most Syrian Christians fight on the side of the Syrian government because it is mostly secular and has left them alone over the years, although some Christians also are allied with the Kurds.  The chaos in neighboring Iraq has destroyed most Christian communities, and Syrian Christians want to avoid that fate.
I am sure you have heard about the Syrian refugees.  Why are they refugees?  Because of the fighting between all of the different groups.  There have been atrocities committed by all sides in this war.  If you want to believe that Assad is responsible for most of the atrocities, I am OK with that (even though it is difficult to know for sure given the chaos on the ground), but clearly ISIS and the other groups have committed many atrocities as well. There have been estimates that nearly half of the Syrian population of 18 million has been displaced during the war.
About a year ago, Russia began stepping up its military presence in Syria.  Russian troops — including aircraft and the Russian Navy — were invited to fight alongside the Syrian government.  Russian troops attacked ISIS and many other groups opposing the government.  Due in part to Russian help, the Syrian government has won some recent battles.  The Russians just this week sent a flotilla of ships to Syria, a sign that they are doubling down on their support of Assad.
What does Evan McMullin want to do?
McMullin apparently spent some time in Syria when he worked for the CIA.  So, he has knowledge about the country.   His most detailed remarks about what should be done in Syria are here.
To sum up: 1) he wants the U.S. to support the "moderate" opposition in Syria.  (The Obama administration is already doing that, but he apparently wants a lot more support). 2)He wants a no-fly zone over Syria aimed at the Syrian and Russian air forces to create safe zones for refugees and protection for the supposed moderates.  3)He wants stronger condemnation of the killing of civilians in Syria by the Assad regime.  4)He wants to stop ISIS and al Nusra.
What does Hillary Clinton want to do?  Well, you can read about it here. 1)She wants the United States to step up support for the "moderate" opposition in Syria.   2)She wants a no-fly zone over Syria aimed at the Syrian and Russian air forces to create safe zones for refugees and protection for the supposed moderates.  3)She wants stronger condemnation of the killing of civilians in Syria by the Assad regime.  4)She wants to stop ISIS and al Nusra.
Hmmm.  Notice the similarities?  Just so we are clear, Evan McMullin and Hillary Clinton basically support the same policies in Syria.
What is the alternative?
Let me propose a completely different approach.
1)The United States should meet with the Russians and negotiate an end to U.S. activity in Syria.  Perhaps the United States could get some kind of diplomatic win in exchange regarding Russian activity in the Ukraine and the Crimea.  But the bottom line is this:  Syria is not essential to U.S. national interests.  If the Russians want to get involved in another quagmire (remember Afghanistan?), that is their problem.  With Russian support, the Assad government would eventually destroy the various rebel factions.  The Christian groups would be protected.  ISIS and al Nusra would be weakened or destroyed without any U.S. casualties. The refugee crisis would end.  In fact, the single quickest way to end the humanitarian crisis in Syria is to allow Assad to consolidate control.  Don't get me wrong:  Assad is a murderer and he would exact revenge, and thousands would die.  But today literally millions are displaced.  They would eventually be allowed to go home and rebuild.
2)The U.S. should not under any circumstances support a no-fly zone in Syria.  A no-fly zone sounds nice and easy, right?  All of those U.S. planes zipping around the skies protecting people.  But a no-fly zone means the U.S. military will keep other planes on the ground.  Which planes?  Syrian and Russian planes.  Yes, you read that right:  McMullin and Hillary both want U.S. planes to fight with Syrian and Russian planes.  World War III, anybody?  Do we really want our air force to get in dog fights with Russian and Syrian planes while we protect rebel groups in Syria?  I certainly don't.  U.S. planes should protect the United States, not some unknown groups in Syria.
3)There is absolutely no guarantee that the "moderate opposition" in Syria would be any better than Assad.  Many of the "moderates" have ties to Muslim extremist organizations.  Others have longstanding grievances against various other political, religious and cultural groups.  Many of them would massacre the Christian minority in Syria if they were in power, especially because the Christian self-defense groups are on the side of Assad's government.  A very likely result of the "moderate opposition" winning in Syria would be an even bigger refugee crisis.  Am I the only one who remembers how John McCain went to Syria to support the "moderate opposition," only to find out later that many of them were allied with ISIS?  You can read more about that horror show here.  To sum up:  there is no such thing as a "moderate opposition" in Syria, and we should stop pretending there is.
4)We should definitely condemn killing and atrocities by all sides and offer to broker peace negotiations.  This should *always* be the U.S. policy in all conflicts — if the antagonists want U.S. help.
No U.S. military involvement in Syria.
The United States already has boots on the ground in Syria.   The U.S. Congress did not declare war, even though the Constitution calls for a declaration of war in such circumstances.  The national debt is approaching $20 trillion and McMullin and Clinton want to risk war with Russia over Syria, a country that is not central to U.S. national interests.  The McMullin-Clinton Syrian policy risks a massacre of the Christian communities in Syria, communities that have lived there since the 1st century AD.  Their policy will not create a better government in Syria and may allow Islamic terrorist groups to take over the country.
It is not hyperbole to say the McMullin-Clinton strategy is dangerous, short-sighted and risks a world war.  Mormons should not support it.