Last General Conference we didn't live blog, because the Church now swiftly puts up video and text archives that make it unnecessary for us to attempt to summarize.
But if the past is any guide, General Conference this weekend will involve some exciting news. So we'll see what happens…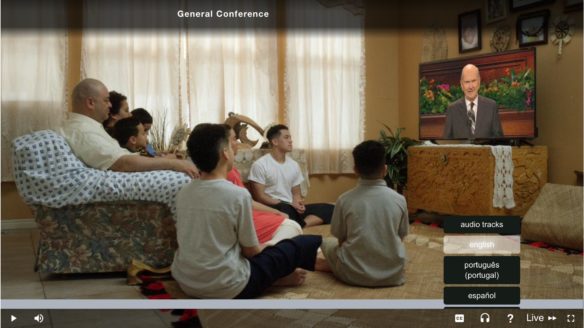 Click more if you are interested in concise notes of Conference Proceedings. Names of speakers are linked to their archived Conference addresses or their biography.
Saturday AM Session
Tabernacle Choir – Now Let Us Rejoice
Welcome – President Dallin H. Oaks
Tabernacle Choir – Press Forward, Saints
Prayer – Elder Steven E. Snow
Tabernacle Choir – There is Sunshine in my Soul Today
Elder Ulisses Soares – Seek to learn and teach one another the Gospel of Jesus Christ. Increased conversion will make us new creatures in the Lord. The best teacher is a good role model. When loved ones wander, know that the Lord watches over them. Love and embrace them and pray for them. [Story of Mary, who embraced the gospel even when her marriage failed.]
Sister Becky Craven – Happiness for $15… Do we look for happiness in cheap or temporary items? Example of a train which hit a car, despite the best efforts of the engineer ended up hitting a car (from which the occupants had escaped after hearing the train horn). Are we careful or casual as we live the gospel? There is not a right way to do the wrong thing. While we may not be perfect, we can be worthy.
Elder Brook P. Hales – God loveth His children. God worketh in us to do according to His will. Three stories: 1) An overcoat was purchased that was answer to the need of a missionary in France. 2) Joseph was sold into Egypt, an unwanted event that ultimately led to the salvation of Israel. Similarly, a son failed to land a dream job, but years later it is clear that blessings occurred because of this. 3) Pat lost her eyesight in childhood. Despite struggles, she knows Heavenly Father is with her.
Choir and Congregation – Redeemer of Israel
Elder Dieter F. Uchtdorf – The Twelver were invited to travel to Rome with President Nelson. This invited comparison between the Saints of Paul's day and the Saints of our day. In 200 years there has been great growth in the Church. But we are some 16 million in a world of over 7 billion. Here are five ideas: 1) Grow close to God. 2) See those around you as children of God. 3) Strive to walk the path of discipleship and talk with others about your faith. 4) Share what is in your heart and invite others to come and see and help. 5) Trust the Lord to work His miracles. Believe, Love, Do. You can do this.
Tabernacle Choir – Dearest Children, God is With You
Bishop W. Christopher Waddell – My brother, Mike, was diagnosed with cancer. As Mike faced death, questions regarding the gospel he had dismissed as a youth became more important. As Mike was transferred to the Huntsman Cancer Institute, he was ministered to. On December 21 Mike received the Melchizedek Priesthood. Five hours later he died. My brother's friends ministered in love. Our trials need not be life-threatening. Like Mike, no one is too far gone. The Lord will direct us as we strive to bless His children.
Tabernacle Choir – I am a Child of God
President Henry B. Eyring – In April 1830, the Church was organized. We read of the unity experienced of the people following the coming of Christ to the descendants of Lehi. But that unity did not endure forever. By studying the pattern of how unity can decline, we can increase love in our families. That pattern was: 1) pride crept in. 2) They set themselves above others. 3) People diminished in their faith in Jesus Christ. 4) They began to hate and commit sin. As you help your family believe in Jesus Christ, their lives will be filled with love rather than hate, humility rather than pride, love for all rather than prejudice. The temple can be the symbol of our belief.
Tabernacle Choir – Rejoice, the Lord is King (with additional verse)
Prayer – Elder Wilford W. Andersen
Saturday PM Session
President Henry B. Eyring is conducting. The music is provided by a Choir of BYU students.
Choir – Come, O Thou King of Kings
Prayer – Elder Brent H. Nielson
Sustaining of Officers – President Dallin H. Oaks, The General Sunday School Presidency was changed.
Church Financial Report – Kevin R. Jergensen
Choir – I Stand All Amazed
President M. Russell Ballard – Sin and transgression dim the light of Christ in our lives. Let us not get so caught up in recent changes that we lose sight of the power the Church and gospel bring into our lives. The joy of gospel living is centered on the pure truths of Jesus Christ.
Elder Mathias Held – My wife and I joined the Church 30 years ago, shortly after getting married. Irene had an impression that we would be blessed by someone visiting our home, so she allowed all manner of persons to enter our home. When two young men visited, we were pleased by what we heard. But we wanted to learn everything before committing to be baptized. But we eventually did choose to be baptized. I have come to see that spiritual sight complements physical sight the way our vision is benefitted by seeing from both eyes. We are able to discern truth that we cannot discern solely from our mortal experience.
Choir and Congregation – Praise to the Lord
Elder Neil L. Andersen – What is truth? The world teaches us that truth is relative, that each of us can have their own truth. But there is one truth for all things. We can know the things of God as we seek them spiritually. The natural man receiveth not the things of God. [Example of art of an eye, which when not viewed from the proper direction appears a jumbled mass of dots.] The Proclamation of the Family is something that holds together as a whole. We cannot pick and choose only those elements which please us and retain the power of the whole. When the expectations of the Proclamation cause a burden, God knows what you bear. No alternative that denies us the companionship of the Holy Ghost is worth that sacrifice.
Elder Takashi Wada. I used to think feasting meant lots of good food with abundant rice and soy sauce. But this pales in comparison to feasting on the word of God. Through what I've learned from feasting on the word of God, I have had strength to make hard choices. When we struggle, the pleasing word of God will help us know who we are. The Lord will touch the hearts of those with whom we share the gospel. My mother took many years to accept baptism. One key event on her path was when a four-year-old boy went out of his way to make sure she had a hymnal, kindness he had learned at Church and at home.
Elder David P. Homer. "Dear Mother…, I love you," my sister wrote when she didn't bear her testimony. I thought about giving President Nelson a similar note, but it didn't seem right. [Experience of flying a plane and choosing experience over the alarm, a choice that saved many lives.] If we are not careful, voices can lead us away from truth, to bitterness and unhappiness. Like plants deprived of oxygen, if we fill our time and minds with faithless voices, we wil be deprived of the sustaining influence of the spirit. We can find the voice of our Father in many places as we read scriptures and perform actions as doers of the word. [Story of brother, John, who endured in the gospel despite pain.]
Choir – Jesus, Once of Humble Birth
Elder Jeffrey R. Holland – After Adam and Eve were excluded from Eden, they were faced with death and banishment from God. But they were given the sacrifice of the first-born lamb as symbol that Christ would redeem them and all mankind from death. After the resurrection of Christ, we were given the sacrament, to sacrifice our broken hearts and contrite spirits. The reduced meeting schedule highlights the centrality of the sacrament, our weekly sacrifice of our hearts and spirits to God. This weekly opportunity to remember our Lord will bring us peace and relief.
Choir – Jesus, Lover of My Soul
Prayer – Sister Lisa L. Harkness
Priesthood Session
President Dallin H. Oaks is conducting. Music is provided by an Aaronic Priesthood choir from the Layton, Utah, area.
Choir – Guide Us, O Thou Great Jehovah
Prayer – Elder John C. Pingree, Jr.
Choir – Count Your Blessings
Elder Gary E. Stevenson – Athletes who are successful rely not merely on talent, but perhaps even more on discipline, practice, and teamwork. It is the same in life as disciples of Christ. Do you know the playbook, the scriptures? When faced with temptation, do you know the drill? Or will you have to make a decision each time regarding how to react? Here are some suggested plays: Pray every day. Listen to your parents. Avoid pornography. Seek good friends. Become an expert in the FamilySearch app and learn your family history. [Showing various prominent athletes in both their sport and in their Church settings.] Consider both offense (doing good) and defense (reacting to attacks).God knows you and loves you. He will make the weak to be strong.
Elder Carl B. Cook – Andre joined the Church in Mochudi, Botswana. His quorum welcomed him. I urge you to reach out to those who are new, who are struggling, or who may have special needs. Those who are not in strong gospel families may not be strengthened at home, but our quorums and leaders can reach out. I was raised by a single mother, but my quorum rallied around me and blessed me immeasurably. Andre helped the missionaries teach four others. Then another young man joined their quorum, then his three friends, then three more joined because of seeing the gospel light in their friends and the missionaries. These twelve joined the Church within only two years, and each was the only member of the Church in their families. Eleven went on missions, and many in their families also joined the Church.
Elder Kim B. Clark – As Jesus walked in Capernaum, a woman touched the hem of his robe. When she knew she was detected, she was afraid. But Jesus comforted her, saying, "Thy faith hath made thee whole." As we minister to God's children with our sisters, God will be with us. If we look unto Jesus, He will bless us to be His elders in Israel. Meek, submissive, and full of His love. There is nothing easy or automatic about becoming such powerful disciples. Rivet means to fasten firmly. We will be blessed and be able to bless others as we rivet our focus on the gospel of Jesus Christ. 1) We can see as God sees. 2) We have priesthood power. 3) Where we go, Christ goes. Doubt not, fear not.
Choir and Congregation – Hope of Israel
President Henry B. Eyring – Many times I've heard priesthood leaders giving thanks for the sustaining faith of those they serve. The Lord thanks you for sustaining others with your faith. Recall how Lucifer rebelled. Jesus sustained the Father's plan. The fact that you are in this life is testament that you also sustained the plan of the Father. In every act as you have embraced the gospel, you have sustained each person who has helped you and ordained you. As you mature, sustaining will take more effort, as you are asked to keep covenant promises to spouse and children. You can ask yourself the temple recommend interview questions. Are we supporting our leaders and fellow servants with love? Or are we critical? God said, "I the Lord, will forgive whom I will forgive. But of you it is commanded to forgive all." Here are four suggestions: 1) Identify specific recommendations and adopt them. 2) Pray for those who speak that the spirit will carry their words into the hearts of those we love. 3) We can pray that specific speakers will be blessed as they give their messages. 4) Listen for messages that come as answers to personal prayers for help. As we apply these principles of faith, love, and forgiveness, let us apply these principles also in our homes. As we do,
President Dallin H. Oaks – The restored gospel of Jesus Christ encourages us to think about the future, which guides our actions today. We see many who only focus on today, giving no thought for tomorrow. We, however, should always ask ourselves, "Where will this lead?" [Story of squirrel and Irish Setter. The students waited for the time when the setter would catch the squirrel in its mouth.] When the predictable occurred, the students rushed to attempt to prevent what had already occurred. We can act or remain silent. When the consequenses are serious, we must speak and act now. At other times, we must choose between two goods. What is the opportunity cost of doing a good thing at the expense of a better thing? "Where will this lead?" is also important in we choose labels for ourselves. All mortal labels are trivial in eternal terms. The Father's plan is for our eternal happiness. [Story of couple who were only able to reach the temple by riding on the floor of the buss for five days and night.] Sacrifice in order to do the best thing will increase our appreciation of that good we seek.
President Russell M. Nelson – Say nothing but repentance to this generation. Does everyone need to repent? The answer is 'Yes!' Satan is the one who tries to tell us that repentance is embarrassing or unnecessary. Repentance is metanoeo in Greek, which means "change" of mind, spirit, and breath. He is asking us to change how we love, care for our bodies, treat our children, and every other thing. Repentance should be daily, and is the key to happiness. Whether you are on the covenant path or cannot even see the path from where you are, I plead for you to repent, to be a little better each day. In so doing, we allow the Savior to change us into our best selves, to become more like Our Savior, Jesus Christ. We are in a battle with Satan, who wishes to keep us from partaking of the joy and love of the Lord. We are not expected to be perfect now, but He does expect us to become increasingly pure. Purity brings power. The power of heaven can only be controlled through righteousness. Prayerfully seek to understand what stands in the way of your repentance. Then change and repent. We can do better and be better than ever before. 1) Improve how we treat our bodies and the bodies of others. 2) We can improve how we honor the women in our lives. No other interest in life should be more important that the wellbeing of your wife. Her input will improve your output. If you need to repent of your treatment of the women in your life, repent now. Never be the reason a woman in your life cannot receive her temple blessings. The Lord needs selfless men that put the welfare of others before their own, men who keep their covenants with integrity, who keep themselves sexually pure, who can give blessings at a moment's notice with pure hearts and worthy hands. I bless you to become those men. In so doing, you will experience miracles in your lives. Amen.
Choir – Beautiful Savior
Prayer – Elder Brian K. Taylor
Sunday AM Session
President Dallin H. Oaks is conducting. Music is provided by the Tabernacle Choir.
Choir – Sing Praise to Him
Welcome – President Dallin H. Oaks
Choir – How Firm a Foundation
Prayer – Elder Bradley D. Foster
Choir – I Feel My Savior's Love
Elder Dale G. Renlund – Analogy of a woodpile and a match. Despite the size of the woodpile, nothing will happen unless the match is struck. If the match isn't applied to the woodpile, little will happen. And if the match or woodpile are deprived of oxygen, the fire will go out. This is like faith and God's power. The initial action we perform in faith is often tiny compared to the blessings that follow. [Bible example of the brass serpent and healing.] We must act on our faith to be blessed. We don't earn blessings, but we do qualify for blessings. [Story of expedition to Arizona, where most in the initial group decided Arizona was uninhabitable. But Brother Dan Jones was willing to fill up and go forth and pray.] [Story of Michael and Marian Holmes praying.] Sometimes we need to act before we receive revelation. God delights to bless you.
Sister Sharon Eubank – One night the temple lights I could see from my office failed to turn on. Like those lights, there are times when light we are used to fails to be. We are beaten, wounded, we feel excluded. But Christ heals wounds. We may feel we are not acceptable. But if we look at those who Christ healed, he healed all, including and particularly those considered unclean, sinners, and corrupt. Peter received revelation and proclaimed, "God has shown me that I should not consider any man unclean." A while ago, I had a dream of a gazebo with stone windows. But I recalled that the brother of Jared took stones and God made them clear and bright. So I understood that I needed to apply faith and patience to my stones, so that they can become transparent and lighted. If we have sinned, God says we can be forgiven. God's light will be there for us. We can help one another when it's hard to turn our own lights back on. God's name, Emmanuel, means "God with us." Ask and you shall receive.

Elder Quentin L. Cook – In 1829 a revelation came, proclaiming that a marvelous work was about to come forth, that all with faith, hope, and charity were called to the work. In my patriarchal blessing, I was told love would help me bless many. Most missionaries feel this type of love. [Story of Wayne R. Shute, who was the Apia Samoa temple president, asking Elder Cook to stay with Otto Haleck. Otto refused the invitation. Then President Hinckley stayed with the Halecks. The love of Wayne Shute led to these ministrations that led Otto to embrace the gospel.] All of us are privileged to share the gospel in love. The great work in this life includes reaching out to those on the other side of the veil. Temples have reported the great increase in temple attendance as families of 11 year olds come to help their youth perform baptisms on behalf of the deceased. Love also benefits our families at home. Part of ensuring that our homes are filled with love includes ensuring that media content does not tear our families from us.
Choir and Congregation – Come Ye Children of the Lord
Elder D. Todd Christofferson – The resurrection confirms the reality of God and His atonement. The scriptures promise His return. As I contemplated service the Church gives to those in need, I was impressed that this work helps prepare the world for the Second Coming of the Lord. Isaiah speaks of the great glory of that time, when there shall be no death and no suffering. Let us prepare for this. Our work is not on behalf of a world destined to collapse, but a world Christ saves. In 1831 the Lord declared, the gospel shall roll forth to the ends of the earth. In ancient times God took Zion to Himself. In the last days, Zion shall receive God. In our days God emphasizes the need to gather our families and seal our loved ones together. The gospel shall be preached among all people. The gathering of Israel (all mankind) is the great work of our time, both reaching out to the world and performing ordinance work on behalf of those who have gone before us. [Scene of youth in Rome waving the temple ordinance cards, deceased ancestors for whom they were eager to perform ordinances.] Christ's resurrection is the ultimate assurance that all will be put right.
Brother Tad R. Callister – What is the atonement of Jesus Christ? In one sense, it is the series of events that took place between Gethesemane and Christ's resurrection from the tomb. The purpose was to make it possible for us to return to God's presence and obtain joy. The obstacles were 1) physical death, 2) spiritual death, 3) afflictions and infirmaties, and 4) weaknesses and imperfections. [Example of someone jumping from a plane. The law of gravity has no compassion. But a parachute allows us to overcome the effect of the law of gravity.] If we have faith and act (like pulling a parachute rip cord), we can experience the atonement of Christ in our lives. Through Christ all will live again. Through Christ, all sin and pain can be overcome – do not put limits on the power of God to cleanse you. Guilt for past wrongs can protect us from repeating former wrongs. Regarding afflictions, we may be healed, we may be given peace and understanding. Through God's grace we can overcome our weaknesses, we can become perfect in Christ. Through the atonement the ordinances have power. Through the atonement, the spirit can bring power and blessings. Through the atonement, we can experience life for death, beauty for ashes, we can overcome all things. Amen.
Choir – Oh Thou Rock of Our Salvation
President Russell M. Nelson – My wife, Wendy, and I rejoice to be with you this morning. [The Stouts note that the new temples include temples where we served as young missionaries.] I rejoice in all who are increasing their love of Jesus through feasting on the truths of the restored Gospel of Christ.

As many know, our family experienced a tender separation when our daughter, Wendy, departed this life. I held her hands and told her how much I loved her. I told her "Your Daddy is very, very proud of you." That evening we talked of things that matter most, faith, family, and eternal life. We miss her, but we do not worry about her. We anticipate being reunited with her again in Paradise.

Days later, Wendy and I visited Paradise, Paradise California. Many there had been devastated by the terrible fires. We talked with John, whose hours of service was strained by the question, "Where is my family?" At the end of life, we will be faced by that same question. Where are our families? Despite all kinds of sins from all kinds of people, God's arms are stretched out to embrace all. Though Christ's atonement promises that all will enjoy immortality, we need to reach out and partner with God to hope for eternal life with those we love. To qualify for the privilege of being with our loved ones forever, we must enter into sacred covenants by the power of God. First we must be baptized. Then we must enter into covenants with our families.

My anguish is that many I love decline God's invitation to follow Him. I understand why God weeps, and I weep for these who do so much good, yet choose not to make covenants with God. I have wondered what I could say so they can know how much God loves them, so they can know of the fullness that is so much more. These friends have never settled for second best in anything in life, but in the life to come they are settling for second best. I ask my friends to pour out their hearts to God. If my friends love their families, I ask them to pay the price to be with them. If you are not certain God exists, seek to experience God.

I had a friend who wished to be with his departed wife. When I talked with him about what the gospel required, he replied that he couldn't possibly pay tithing or spend time to serve or otherwise change his life. But he entreated me to promise to perform the proxy ordinances on behalf of him and his departed wife after he himself died. I am not his judge, but I worry when someone consciously decides to evade covenants in this life.

I invite all to embrace the gospel of Christ and the glorious promise that we can be with those we love in eternity. Amen.

Choir – Come, Follow Me

Prayer – Sister Jean B. Bingham
Sunday PM Session
President Henry B. Eyring is conducting this session. The Tabernacle Choir is providing the music.
Choir – Sweet is the Work
Prayer – Elder Taniela B. Wakolo
Choir – Come Unto Jesus, Ye Heavy Laden
President Dallin H. Oaks – I have had the opportunity to judge serious sins under both the laws of God and the law of man. The laws of man can result in an individual being imprisoned for the rest of their life. But under the laws of God, individuals may repent and be redeemed. As the Choir sang, His love will lead you from darkest night unto day. We can all repent and return. It is not easy, but the prize is worth the price. First is repentance, for no unclean thing can dwell in the presence of God. Where required, we must confess to the proper mortal judge. We must partake of the sacrament and deny ourselves all ungodliness. In the Final Judgement, each will be judged by Jesus Christ according to their hearts. We must repent before the Final Judgement. This mortal life is the time to repent. Though repentance is possible in the next life, it is not wise to presume we will be able to change ourselves then. God loves us and we can be cleansed. Amen.
Elder Juan Pablo Villar – Many muscles need to be in condition in order to function in our lives. Though we may read and theorize, it is only through exercising our muscles that we are capable of doing. Similarly, we cannot build faith without doing. [Fun story about his brother as a missionary, before Elder Villarreal ever joined the Church.] Jesus is our loving Savior, He is the way.
[Remaining notes from my husband.]
Elder Gerrit W. Gong – Christ as both the Lamb and the Good Shepherd, who calls his sheep by name, and gathers them into his fold.
Choir and Congregation – Hark All Ye Nations"
Elder David A. Bednar: How the home is becoming increasingly the center, supported by the church: home is the principle mission training center, sunday school, family history center, temple preparation class.  He also spent a fair amount of time giving practical advice on what and how parents should teach their children about the temple. –
Elder Kyle S McCay: The immediate love and goodness of God. (You'll like how he starts his talk.)
Elder Ronald Rasband: "Go to your homes and ponder these things." How our homes should be our fortresses, and various ways to fortify them.
Choir – I Know That My Savior Loves Me
President Russell M. Nelson: temple announcements:- All the pioneer-era temples will receive major renovations. The schedule for one of them (St. George?) has been announced; SLC's schedule will be announced soon (Apr 19 I think); and others announced later. – There will be new temples in: American Samoa; Okinawa; Tonga; Moses Lake WA; Honduras; Antofogasta Chile; Budapest Hungary.  (He preceded the announcement by saying that temples are sacred places and we should greet announcements of them in beloved places with reverent gratitude, but no vocal exclamations; the audience present complied.) 
Choir- I Need Thee Every Hour
Prayer –