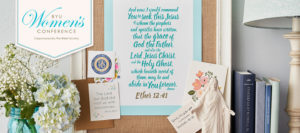 Today BYU Women's Conference starts (YAY! I wish I was there!). The Friday opening and closing general sessions will be live streamed on some of the Church's media channels. The Thursday general sessions are not being live streamed, however, they will be online for on-demand viewing a few weeks after Women's Conference. I will let everyone know when they are available.
This year's theme is based on Ether 12:41, "And now, I would commend you to seek this Jesus of whom the prophets and apostles have written, that the grace of God the Father, and also the Lord Jesus Christ, and the Holy Ghost, which beareth record of them, may be and abide in you forever. Amen." This is one of my favorite scriptures, and I am so glad that this is the theme of the Conference this year.
Here is the information for viewing:
Sister Jean B. Bingham, Sister Bonnie H. Cordon, Sister Joy D. Jones with Sheri Dew as moderator
May 3, 2019
9:00–10:15 a.m. – Mountain Daylight Time (MDT)

Elder D. Todd Christofferson and Sister Kathy Christofferson
May 3, 2019
3:45–5:00 pm – Mountain Daylight Time (MDT)

Both events will be streamed live in English, Spanish, and Portuguese on our home page, the home page of churchofjesuschrist.org and on the Church's YouTube page, the Church's Facebook page, and via the MormonChannel app.

In addition, the Sister-to-Sister Event will be available in the following languages and locations:

English: On the Facebook page of Sister Bingham, Sister Jones, and BYU Women's Conference

Spanish: On the Facebook page for Sister Cristina B. Franco, Second Counselor of the Primary General Presidency, as well as the Facebook page for Sister Reyna I. Aburto, Second Counselor of the Relief Society General Presidency.

Portuguese: On the Facebook page of Sister Cordon.

Recordings of these events will later be archived in the Media Library.