Review
======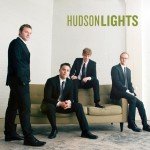 Title: Hudson Lights
Artist: Hudson Lights
Publisher: Shadow Mountain Records
Genre: Pop/Jazz
Year Published: 2013
Number of Songs: 11
Binding: Digipack
ASIN: B00EIEPS1A
Price: $15.25 on Amazon/16.98 at Deseret Book
Reviewed by Ivan Wolfe for the Association for Mormon Letters
There's not a whole lot of information online about Hudson Lights, but what little there is indicates they see themselves as a nice mix of Jazz and Pop with tight vocal harmonies and a slight classical edge. That's mostly right; however, a description like that overstates how much jazz influence pervades the album. This album is excellently produced with solid and slick production and extremely high production values, but it clearly fits more with a "soft adult contemporary pop" radio station than even the softest of jazz standards stations. It's pleasant listening, but it doesn't really break any boundaries nor do anything to separate this group from any similar artists. While one song could be considered a mix of jazz and pop, overall they don't mix jazz and pop so much as cover some jazz standards and cover a few recent pop tunes; they don't really "jazz up" the pop tunes at all (with one exception), though they do somewhat "pop down" the jazz tunes (though not fatally).
Here's my take on each song.
Hold on to Me: This is a cover of a Christian rock song "Busted Heart (Hold on to Me)" by For King & Country. While the original has a slight alt-rock vibe, this version (in addition to losing the main title and taking the parenthetical) turns the song into a slickly produced top 40 type pop number.
Brave: A cover of a Josh Groban song. As I am not a Josh Groban fan, I can't fairly judge this song. I did listen to the original to compare, and this version does nothing new. It's a fairly solid and respectable near carbon copy cover, albeit with more vocal harmonies.
Beautiful Day: A cover of a U2 song. While this song was one of U2's "poppier" numbers, this cover takes any edge off the song and turns it into a mellow contemporary song.
Eleanor Rigby: A rather famous and somewhat dreary Beatles song, this jazzy arrangement sounds like how a cross between Frank Sinatra, Harry Connick, Jr., and Josh Groban might cover the song. However, the arrangement doesn't really fit the subject matter: "All the lonely people" are apparently pretty darn snappy and happy, based on this arrangement.
Good to Me: This is a song by an artist named Nik Day, apparently original to this album. It's a fairly generic feel good pop number that would feel right at home on the radio alongside recent hits like "Happy" or older songs like "Power of Love (Love Power)" or even "You Make My Dreams Come True" (which appears later on the album).
Autumn Leaves: I've heard dozens of versions of this song. This simple version (guitar, bass, and minimal piano accompaniment) works well. It's sung in both in French and English. It's not in the top ten versions of this song I've heard, but it clearly in the top half.
You Make My Dreams Come True: A decent cover of the Hall and Oates classic, this feels rather right at home. It's a nice feel good love song, but with more bounce and zest than the earlier "Good to Me."
The Nearness of You: An old 1930s Hoagy Carmichael tune; this is my favorite song on the album. This one has an excellent guitar accompaniment (and nothing else, other than some vocal harmonies), and the singing is expressive and in all other aspects excellent.
Love Never Fails: Based on 1 Corinthians 13 in the New Testament, this is another cover of a Christian artist's tune (Brandon Heath). Though it's basically a carbon copy of the original, it's a sweet, simple, and profound song.
Can't Take That Away: A Gershwin tune, they cover this fairly well; there's nothing really new going on in this version, but it's a respectable cover.
Poor Wayfaring Stranger: Probably the most original arrangement on the album, this attempts to take the old American folk tune and turn it into something that borrows from both classical and jazz genres (it's accompanied by a string quartet and has some jazzy vocal harmonies) . It doesn't really work for me, since the various elements don't seem to mesh very well. However, your mileage may vary; I can imagine this arrangement working for some friends of mine.
Overall, it really depends on your own taste in music. Hudson Lights is not likely a group I would go out of my way to listen to, but the album sounds good and has no real problems with production values or musicianship. For those who like soft jazz standards mixed with soft top 40 adult contemporary pop, this would serve as an excellent choice.