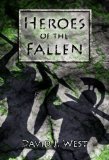 For the next couple of days, the Kindle Edition eBook of "Heroes of the Fallen" is available for FREE at Amazon.com: http://goo.gl/7gX7V
Back in 2010 I reviewed and recommended "Heroes of the Fallen" by David J. West. The book is a story of ancient warfare, political and religious intrigue, and courageous but often flawed heroes set in the ancient America of the Book of Mormon, around 320 or so years A.D. A few parts are quite gory and it is the first of an intended trilogy, so the book leaves you hanging at the end, but I enjoyed it immensely.
Don't have a Kindle? That's okay. You can get the book for free from Amazon and then read it on your iPhone, iPad, or PC Computer using Amazon's free book reader applications.
Go get it! Get it NOW!