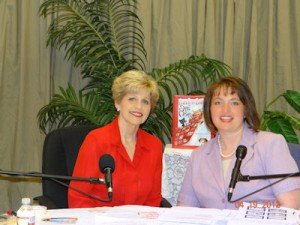 I know this post is a little bit unusual, but I thought you would like it.  This is a 1 hour interview about parenting on a B.Y.U. radio station.
BJ Stober, family therapist and hostess of Family Voice Talk Radio, interviewed Nicholeen Peck on April 19, 2012 about strict parenting.  This is a link to the audio/video version of the show.
Nicholeen discussed different ways to parent and how what to focus on in order to break bad parenting habits.
Be sure to listen for the 10 Things Parents Need To Know to teach their children self-government.
Enjoy!
By Nicholeen Peck, BBC television star and author of Parenting A House United, and Londyn LaRae Says Okay.
Nicholeen's Books and Audio Classes
Nicholeen's New Children's Book
Nicholeen's Blog