Advent is a time of preparation for the birth of Jesus Christ and the celebration of Christmas. This year my family and I have been celebrating the Festival of Advent with devotionals each Sunday night. Find our FIRST, SECOND and THIRD weeks devotionals by clicking the links.
One Christmas tradition we do in our family is to open a book each night in December and read it. It's a good thing for me, because it's the only time I am consistent about reading to my children. Although I will admit this week we've missed more than a few nights. Over time it's my goal to replace the five copies of Clement Clarke Moore's "Night Before Christmas" with books that center more on Jesus Christ and the events of His birth in Bethlehem.
Two books that we enjoy are The Animals' Christmas Eve by Gail Wiersum and In The Dark Streets Shineth by David McCullough.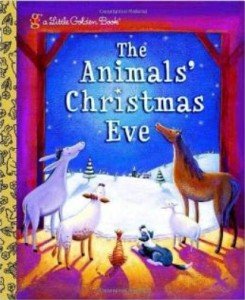 The Animals' Christmas Eve, is a Little Golden Book, and is one of my favorite books of all time. This book is the animals telling their children the Christmas story. I have always thought that those animals somehow were keeping guard over the Baby Jesus and Mary and Joseph that night. It is a very sweet retelling of the greatest story ever told. A song that I also love, which goes perfectly with this story and talks about the animals of Christmas is The Wild Wood Carol by John Rutter.
Our second book, In the Dark Streets Shineth, retells two stories about the Christmas hymn, "O Little Town of Bethlehem." McCullough is a masterful storyteller and captivates the reader from the beginning. He recalls Christmas 1941, and a secret visit by British Prime Minister, Winston Churchill made to the US to see Pres. Franklin Roosevelt. On Christmas, they attended a church service where this song was sung. Churchill remarked,
"[Here I am far away from home], yet I can not truthfully say I feel far from home. Here in the midst of war, raging and roaring all over the lands an seas, creeping nearer to our hearts and home, here amid all the tumult, we have tonight the peace of the spirit in each cottage home and in every generous heart…Here, then for one night only, each home…should be a brightly lighted island of happiness and peace."
Years earlier Phillips Brooks had visited the Holy Land and had gone out to see the shepherds tending their flocks in the night. Upon his return to Philadelphia he wrote a poem that expressed his feelings about that night. This poem became the words of the hymn.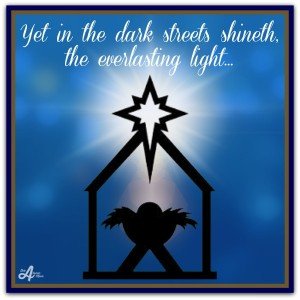 "Oh little town of Bethlehem, how still we see thee lie. Above thy deep and dreamless streets, the silent stars go by. But in thy dark streets shineth the ever lasting light. The hopes and fears of all the years are met in thee tonight."
Brooks asked the Church organist, Lewis Redner, to put the poem to music for the Christmas service. Redner said that he tried for days without any success, and felt like a total failure. Deep in the middle of Christmas Eve night, the music came to him in a dream. He woke and wrote it down. He expressed the feeling that the music came to him in a miraculous way, and now it is a most beloved Christmas song.
There are so many miracles and mercies that surround the birth of Jesus Christ. From the animals, shepherds, and angels that were present, to the inspiration that gave us a beautiful song.
Christ's light still shines in the dark of night and sometimes on our dark days as well. His light is available too all people, no matter their circumstance. There are many wonderful books that recount and tell about the various aspects of the miracles surrounding Christ's birth. I hope that you will gather your family around and read your favorite sacred Christmas books and talk about the birth of our Savior this week.
Happy Advent and Merry Christmas!