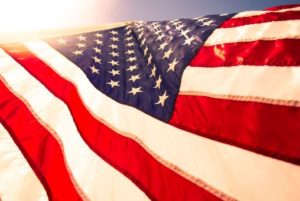 For many people their favorite holiday is Christmas. That's fine — weirdos (just kidding!). In our house we're summer people, especially Independence Day people. Starting about Memorial Day I begin to blitz the house with red, white, and blue decorations, my children wait for me to bring out the fire crackers, we read the Declaration of Independence the night before Independence Day, and we watch 1776 on the day itself. We carry our celebrations into late July and truly enjoy Pioneer Day and celebrating our ancestors and our country.  I love this time of year.

There is so much good music associated with summer and the holidays of summer. This morning I was listening to Aaron Copland's The Tender Land Suite, which is an opera he wrote in the 1950s.  It wasn't a very popular work at the time, but has grown in popularity over the years.  One of the anthems in the piece is a song called The Promise of Living. I love this as an instrumental or as a choral piece.  It always brings to my mind images of pioneers crossing the plains in covered wagons, my ancestors tilling the ground and working hard to make a living.  To me this song encapsulates everything that my country is.
Over the next few weeks I'm going to share some of my favorite summer music with you. If you have a favorite, let me know in the comments and I'll share it here on The Millennial Star with our readers.
The Promise of Living, lyrics by Horrace Everet
The promise of living with hope and thanksgiving

Is born of our loving our friends and our labor.

The promise of growing with faith and with knowing

Is born of our sharing our love with our neighbor.

The promise of loving, the promise of growing

Is born of our singing in joy and thanksgiving.

For many a year we've know these fields

And know all the work that makes them yield.

We're ready to work, we're ready to lend a hand.

By working together we'll bring in the blessings of harvest.

We plant each row with seeds of grain,

And Providence sends us the sun and the rain.

By lending a hand, by lending an arm

Bring out the blessings of harvest.

Give thanks there was sunshine, give thanks there was rain,

Give thanks we have hands to deliver the grain.

O let us be joyful, O let us be grateful to the Lord for his blessing.

The promise of living, the promise of growing

The promise of ending is labor and sharing and loving.
The Promise of Living, instrumental:
The Promise of Living, choral