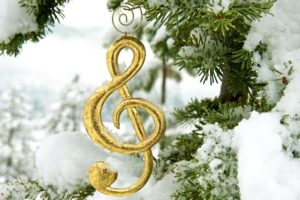 Merry Christmas from all of us at The Millennial Star. We all wanted to thank you for reading and commenting on our posts all year — we hope you continue to come back.
It's been so personally enriching to write about music this month. I hope you've enjoyed it. I loved it so much, I'm going to continue to write about music, literature and other nice things in 2019 — because let's face it, the news is depressing.
As I was thinking of what I wanted to write about in this last music post, my thoughts were directed to the words of Samuel the Lamanite in the Book of Mormon and his prophesy of the birth of Christ. Helaman 14: 1-8,
1 And now it came to pass that Samuel, the Lamanite, did prophesy a great many more things which cannot be written.

2 And behold, he said unto them: Behold, I give unto you a sign; for five years more cometh, and behold, then cometh the Son of God to redeem all those who shall believe on his name.

3 And behold, this will I give unto you for a sign at the time of his coming; for behold, there shall be great lights in heaven, insomuch that in the night before he cometh there shall be no darkness, insomuch that it shall appear unto man as if it was day.

4 Therefore, there shall be one day and a night and a day, as if it were one day and there were no night; and this shall be unto you for a sign; for ye shall know of the rising of the sun and also of its setting; therefore they shall know of a surety that there shall be two days and a night; nevertheless the night shall not be darkened; and it shall be the night before he is born.

5 And behold, there shall a new astar arise, such an one as ye never have beheld; and this also shall be a sign unto you.

6 And behold this is not all, there shall be many signs and wonders in heaven.

7 And it shall come to pass that ye shall all be amazed, and wonder, insomuch that ye shall fall to the earth.

8 And it shall come to pass that whosoever shall believe on the Son of God, the same shall have everlasting life.
So all of those people who believed his words waited, hoped and endured to see the signs. I'm sure it must have been hard to stay faithful in the midst of the persecution that was going on during that time. Five years after Samuel's prophesy, the prophet Nephi was pleading with the Lord on behalf of the people, 3 Nephi 1: 8-13,
"8 But behold, they did watch steadfastly for that day and that night and that day which should be as one day as if there were no night, that they might know that their faith had not been vain.

9 Now it came to pass that there was a day set apart by the unbelievers, that all those who believed in those traditions should be put to death except the sign should come to pass, which had been given by Samuel the prophet.

10 Now it came to pass that when Nephi, the son of Nephi, saw this wickedness of his people, his heart was exceedingly sorrowful.

11 And it came to pass that he went out and bowed himself down upon the earth, and cried mightily to his God in behalf of his people, yea, those who were about to be destroyed because of their faith in the tradition of their fathers.

12 And it came to pass that he cried mightily unto the Lord all that day; and behold, the voice of the Lord came unto him, saying:

13 Lift up your head and be of good cheer; for behold, the time is at hand, and on this night shall the sign be given, and on the morrow come I into the world, to show unto the world that I will fulfil all that which I have caused to be spoken by the mouth of my holy prophets."
What a blessing it must have been for Nephi to receive that assurance that the Lord was going to be fulfilling the prophesy of Samuel. We are not unlike the believers waiting for the sign to be fulfilled. We have the words of living prophets to study and live by, and like our Nephite brothers and sisters of long ago, we wait and have faith that the Lord will fulfill all He has promised us. We look forward with that "perfect brightness of hope" Nephi taught us about, "Wherefore, ye must press forward with a steadfastness in Christ, having a perfect brightness of hope, and a clove of God and of all men. Wherefore, if ye shall press forward, feasting upon the word of Christ, and endure to the end, behold, thus saith the Father: Ye shall have eternal life" (see 2 Nephi 31:20).
Luke 2 read by Hugh Bonneville with the Tabernacle Choir. This was from 2017's Christmas concert.

O Holy Night, sung by The King's Singers with the Tabernacle Choir.
A thrill of hope the weary world rejoices
For yonder breaks a new glorious morn
Fall on your knees
O hear the angels' voices
O night divine
O night when Christ was born
O night divine o night
O night divine