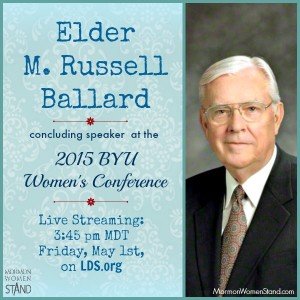 BYU Women's Conference has announced that the closing session of the Conference will be streamed live on LDS.org. Tune in Friday, May 1st at 3:45pm MDT, to hear Elder M. Russell Ballard, of the Quorum of the Twelve speak. The theme of this year's conference is 2 Nephi 11: 5, "And also my soul delighteth in the covenants of the Lord which he hath made to our fathers; yea, my soul delighteth in his grace, and in his justice, and power, and mercy in the great and eternal plan of deliverance from death."
Thank you to all who made this available. And if you're there, we hope you're having a spectacular time!
Follow BYU Women's Conference on social media with the hashtag, #BYUWC.