The Church has spoken out against abuse by everyone, particularly members. But abuse happens. And there are factors that make it difficult for abused persons to be believed.
Sunday evening I had a chance to hear Jennie Willoughby speak, the first time she's publicly discussed the abuse in her marriage with a dominantly Mormon audience.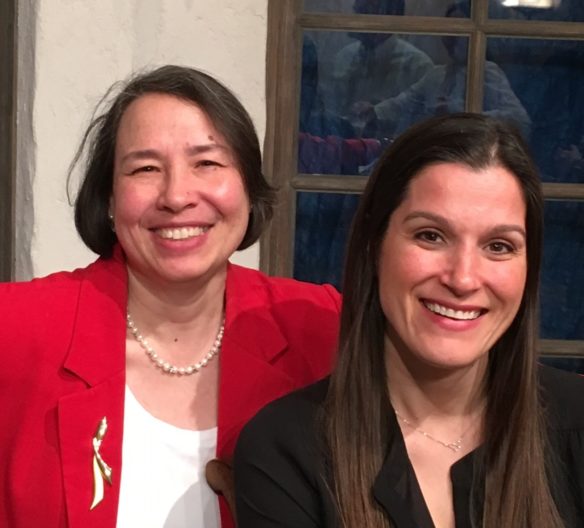 Jennie reports that she didn't notice anything untoward in her whirlwind courtship with Rob Porter, a rising legal professional with strong ties to Mormon leadership. A recent convert, Jennie didn't notice Rob wasn't taking the sacrament when they first met. The fact that Rob had a prior failed marriage didn't raise red flags. One instance of anger during their courtship seemed understandable at the time. In retrospect, it was a precursor of the terror that would ensue.
Weeks after marrying Rob, Jennie burst into tears in a temple recommend interview when asked if there was anything of concern in her relationships with family members. 1 The stake leader, who had been Jennie's bishop when she joined the Church, requested Jennie talk with her Bishop. Jennie admits that she wasn't able to clearly articulate to her bishop the way in which she was being verbally abused or the ways in which intimate relations between herself and her husband felt wrong. Jennie separated from Rob. When Rob destroyed the window in the door to her apartment in anger, the police warned her she may not be safe. But Rob apologized and they reconciled. Then an angry Rob grabbed Jennie by the neck when she was in the shower, terrifying Jennie enough to take steps to end her marriage.
I myself have been involved in toxic situations. This week my physician asked how I came to have a fracture to my eye socket, an old injury the eye doctor noticed earlier this year. I honestly don't know whether the injury occurred in the late 1970s, when my father beat me, or in the early 1990s, when my first husband beat me. I have suffered no other accidents that could account for that sort of damage to my eye socket.
I am not the most abused woman I know. A girl raised in my neighborhood, Janet Christiansen Abaroa, was brutally killed, almost certainly by the man she married in the temple. A sister-in-law was raped twice, once at Church. My daughter's sister-in-law was also raped at Church. When I consider lesser violence against women, I can name dozens of family members, friends, and acquaintances who have suffered, often at the hands of those who were ostensibly good Church-going men. And women can be abusive as well.
Abuse happens. But why are the abused too often denied the help they need? And what can be done to reduce the problem in the future? Continue reading →
Notes:
I've been asked this question in interviews, but forget the exact wording. ↩